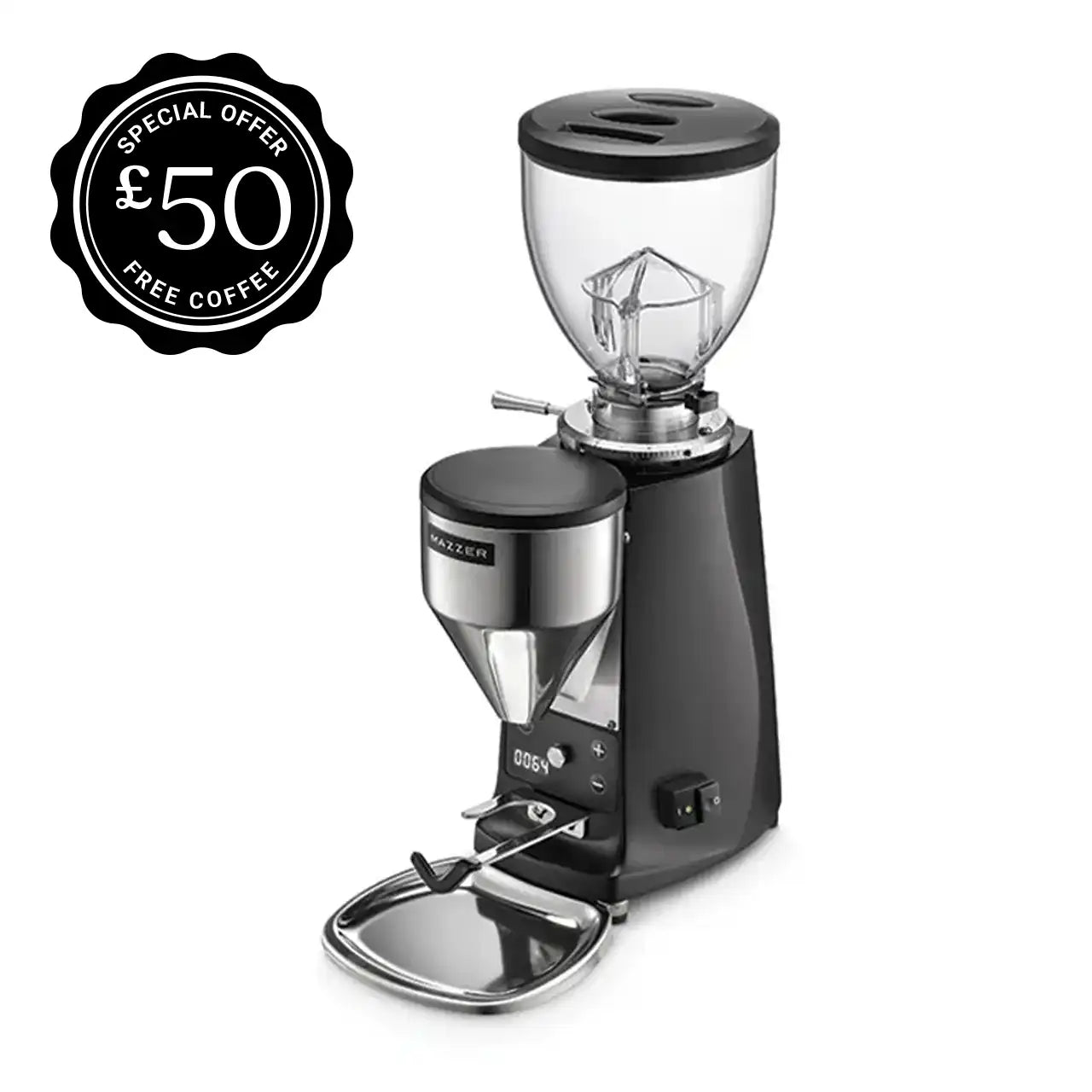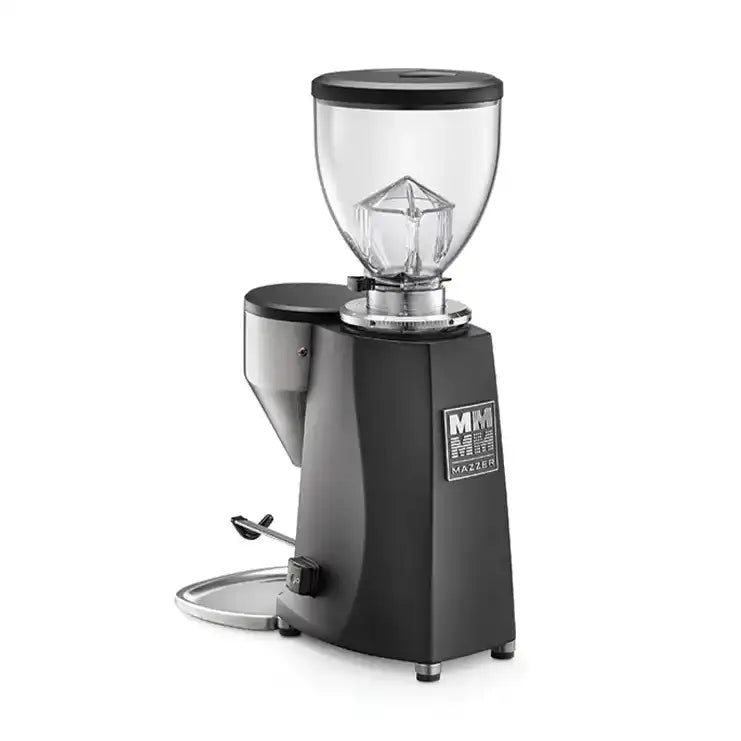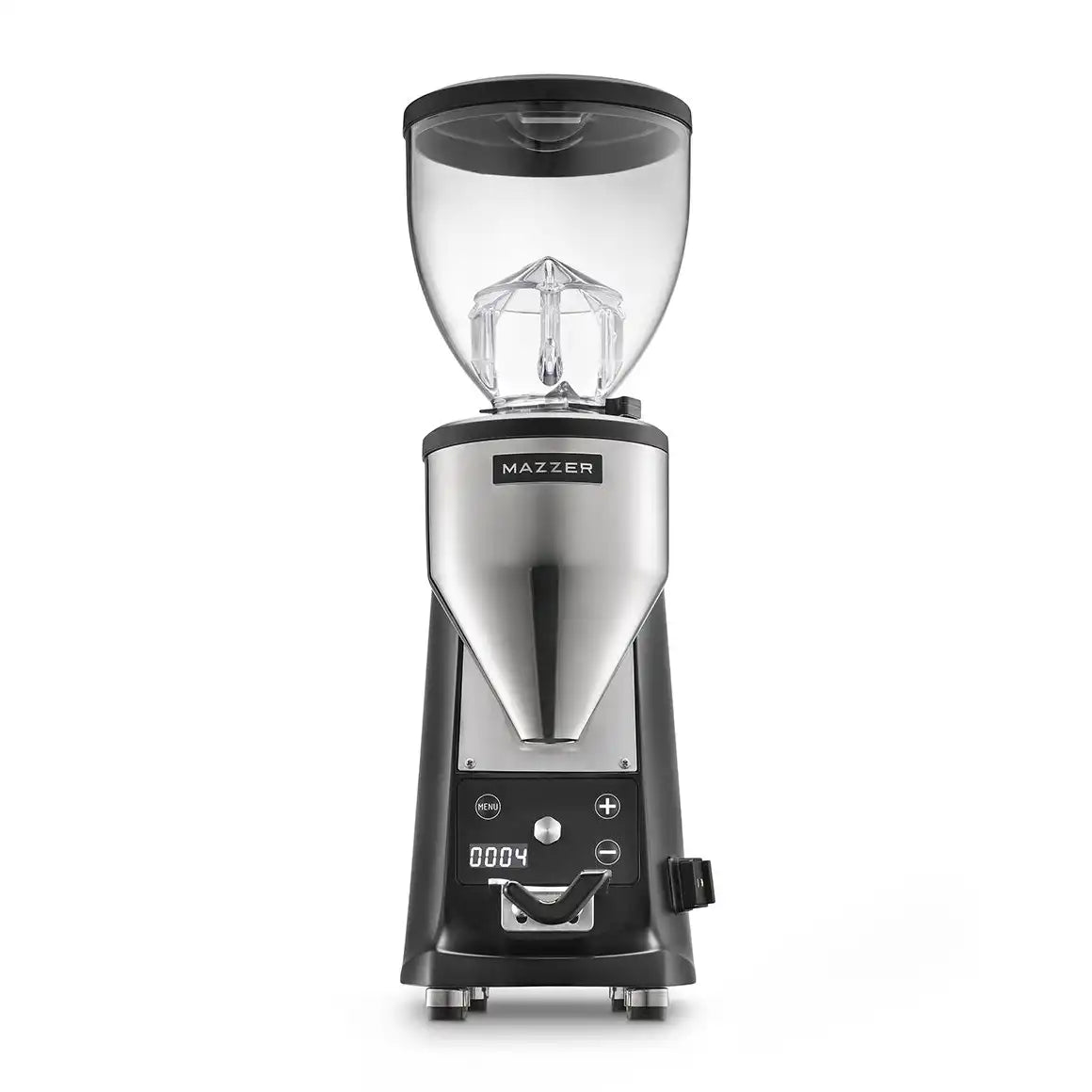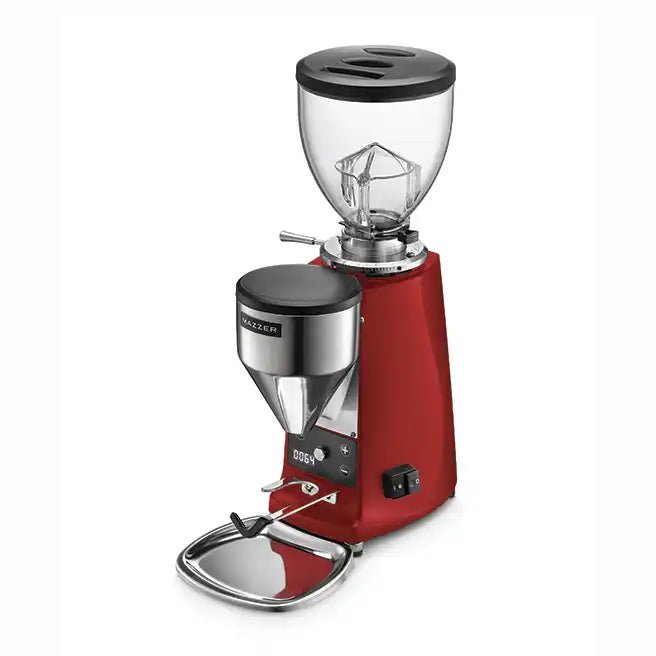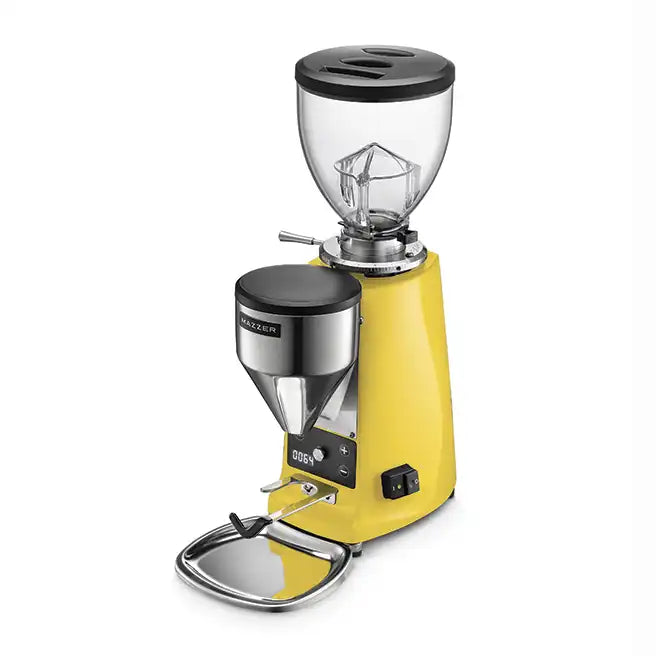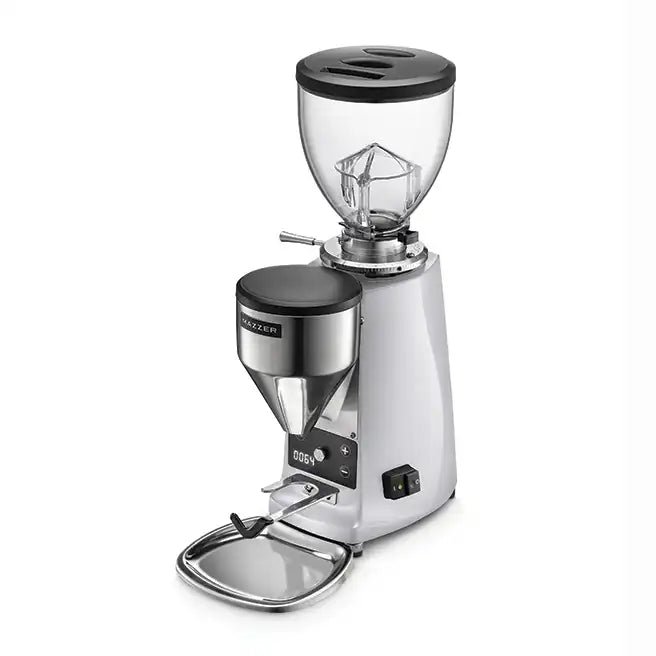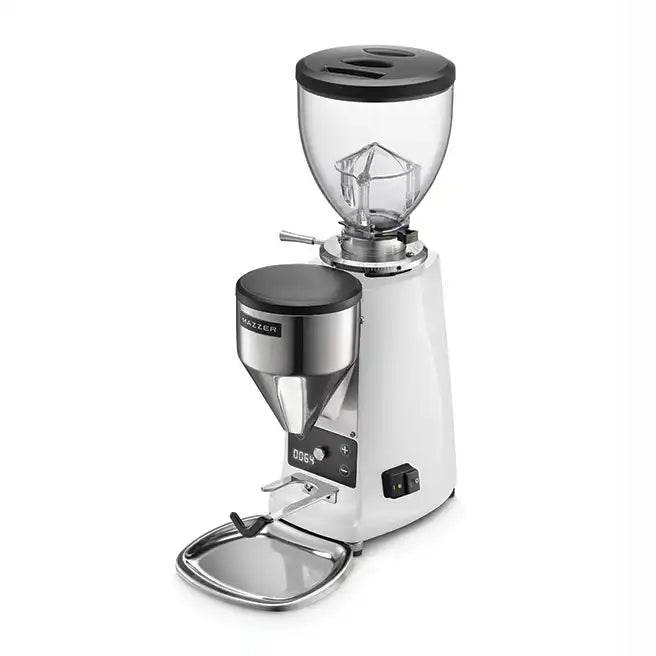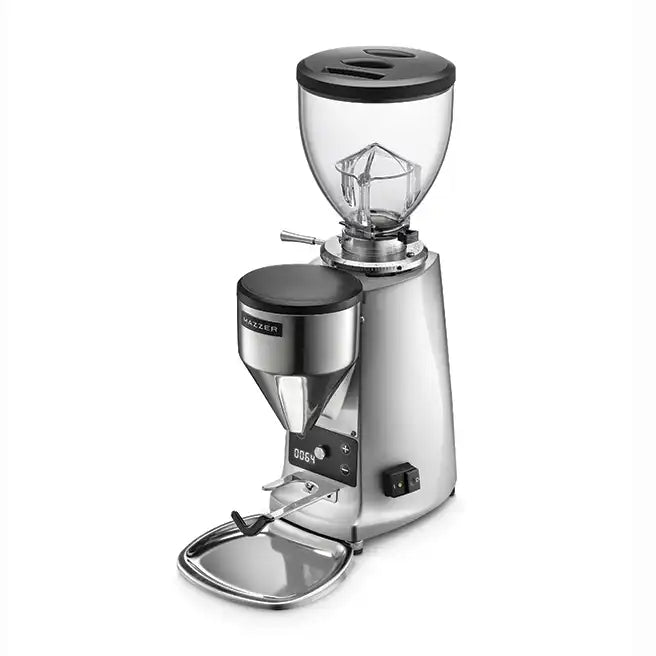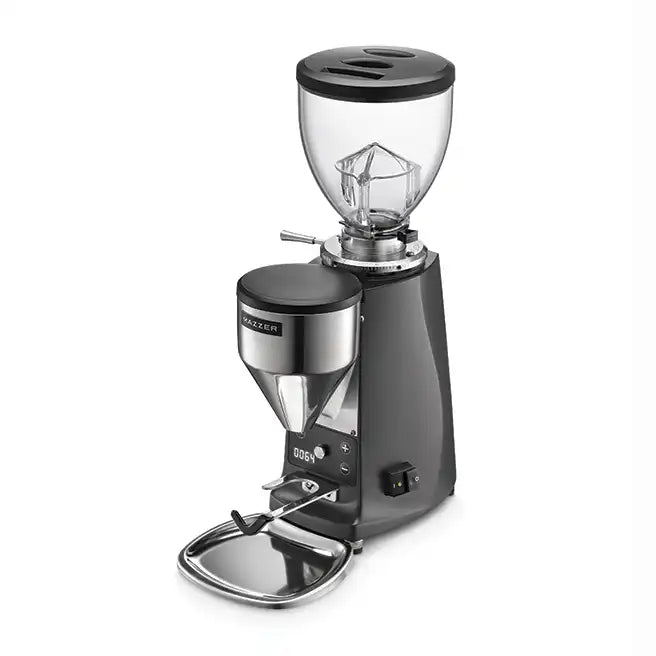 Mazzer Mini B Coffee Grinder Electronic
Sale price
£966.00
Regular price
With FREE £50 e-voucher for Ground Coffee
Mazzer espresso grinders are perhaps the most respected brand of commercial-quality espresso grinders available. Small dimensions, heavy-duty die-cast aluminium body, stepless control and ease of use make it an ideal choice for the espresso enthusiast's home with a height that fits under most kitchen cabinets.
The Manual Electronic B Manual Electronic is the sister product of the Electronic A. Instead of electronic push buttons on top of the hopper, it has On-Demand Dosing system – activated when the portafilter makes contact with a button behind the forks. This allows for single-handed dose weighing. It offers single or double dose depending on how you hit the dosing button with the portafilter. Hit once for single dose or quickly twice for a double dose. The doses are adjustable based on time and pre-programmed using the digital display on the front.
It delivers superfine espresso to coarse grinds, with a step-less collar adjustment that allows for precise dialling in. The burrs are made from Swedish hardened steel and are widely regarded as being the best currently available in the industry. 
Stepless micrometrical grinding adjustment

On-Demanding Dosing 

with electronic dose adjustment, 

so you can fill your portafilter using a single hand

64 mm flat burrs that grind 18 grams of coffee in 14 seconds
Hopper holds 600g of coffee beans
1400 RPM
47cm height (with 600g hopper) allowing grinder to fit under most kitchen cabinets 

1 year back to base warranty
Comes with an e-voucher for £50 to spend on your choice of coffee in our store as a one-time purchase or towards a subscription
UK delivery only / Black model in stock / Allow approx 6 weeks for delivery of other colours 
Legendary Mazzer quality, Italian design and stepless grind control
Compact, professional on-demand grinding in the home
On Demand Dosing

Thanks to an On Demand Dosing System, you can fill your portafilter with ground coffee using a single hand, just by making contact with a button behind the forks.

Stepless grind adjustments

Mazzer Mini brings commercial-quality stepless micrometrical grind adjustment into the home. So it can cope with anything from a super fine espresso to coarse grinds needed for cafetiere coffee (French press).

Quiet 250 watt motor

The powerful 250 watt motor is very quiet, so it doesn't feel like you're using an industrial machine in your kitchen. It's also strong for a longer working life and more consistent grind.

A premium home grinder

With legendary Italian design and manufacturing, the Mazzer Mini is the perfect partner for your home espresso machine. Bringing a professional edge to your home barista setup.