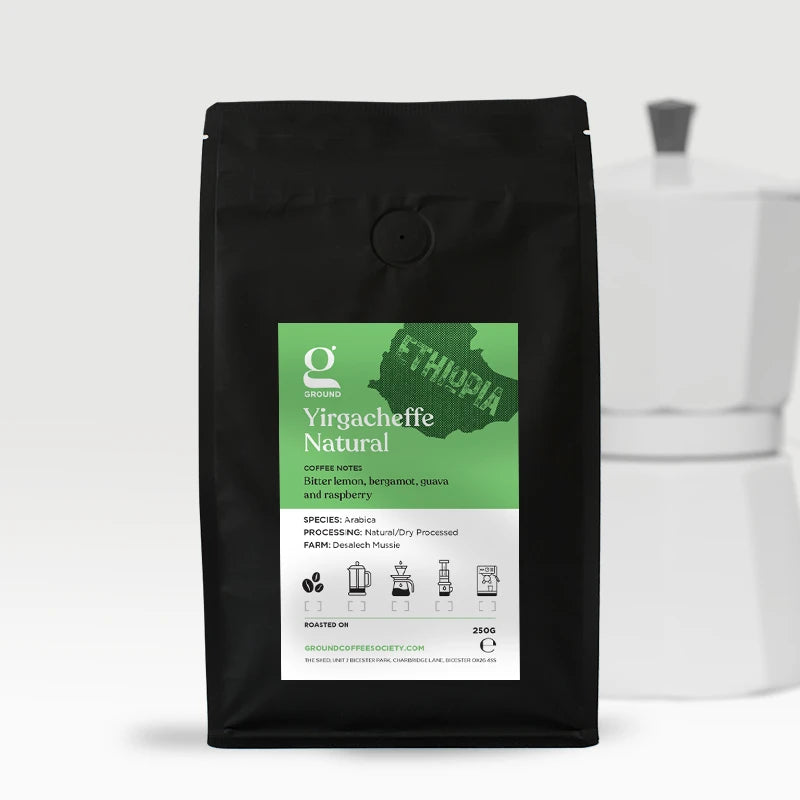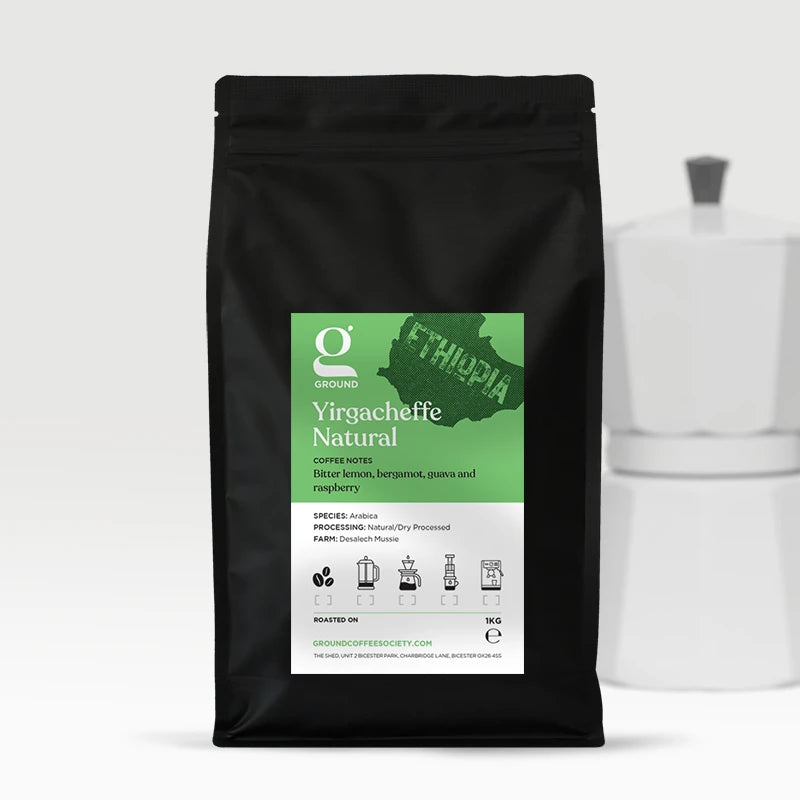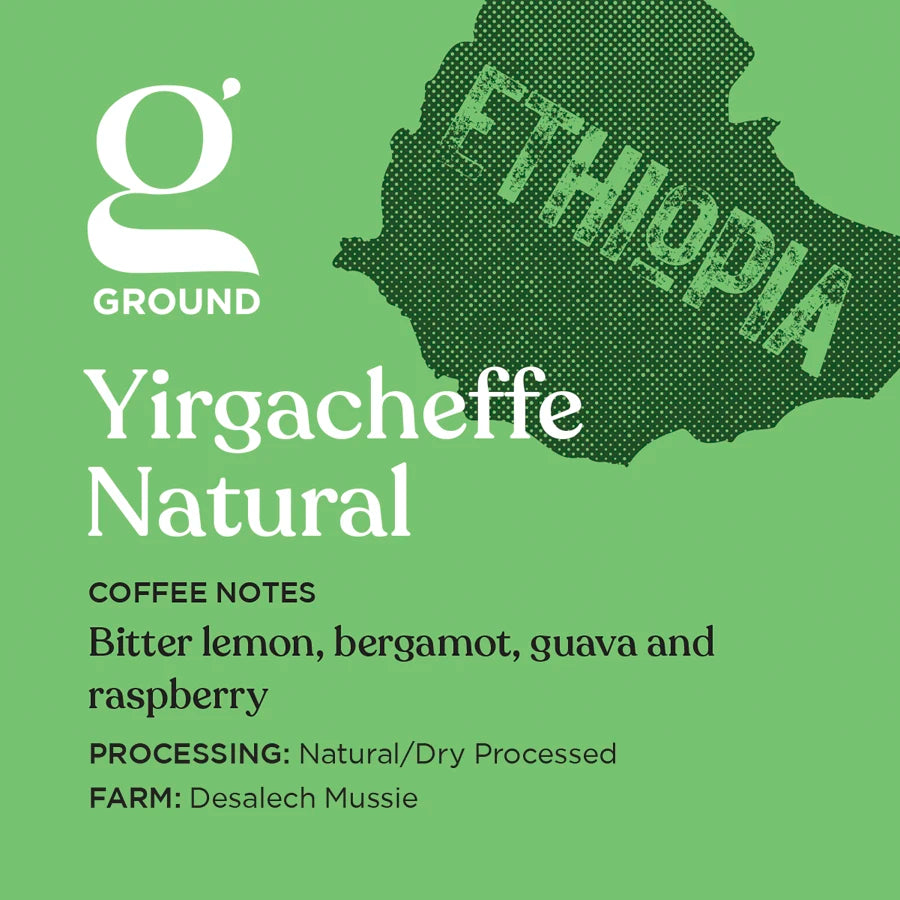 Ethiopia Yirgacheffe Natural
Sale price
£9.50
Regular price
Bitter lemon, bergamot, guava and raspberry
This single-origin, grade 1 natural single-farmer microlot was produced by a single farmer – Desalech Mussie, a female producer from Harfusa Waro in Yirgacheffe district.
SUBSCRIBE & SAVE
Subscribe and get 25% off your first subscription with code 'SUB25', free delivery on orders over £15 and an extra 10% discount from your 5th recurring order.
Easy to manage – amend, skip or cancel your subscription at any time.
Learn more about subscriptions
More about this coffee
Ethiopia Yirgacheffe Natural
Region

Harfusa Waro, Yirgacheffe, Southern Ethiopia

Species

Arabica: Indigenous Heirloom Varieties
Meet the farmer
A mother of 6 children, Desalech farms 1.6ha of land around her family home at an altitude of 1,902masl. She cultivates the heirloom subvarieties of Kumie, Diga and Wilsho, shaded by Acacia and Sudan Teak (Cordia Africana). This lot was naturally processed on raised African beds for 18 days.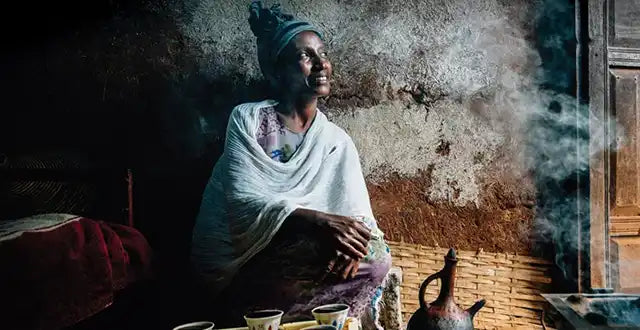 Coffee story
The Yirgacheffe region has developed a distinguished reputation for fine coffees, producing some of the most sought-after micro-lots in the world. The combination of high altitude (up to 2,200m in some areas), fertile soil, consistent and plentiful rains, and an abundance of local knowledge are all contributing factors to the high status of Yirgacheffe coffees. The indigenous 'heirloom' varietals - which grow wild in Ethiopia - are responsible for the unique flavour notes which make for an unusual but refined cup. When processed naturally through sun-drying these present as juicy and jammy stone-fruit flavours, floral notes and chocolate with a creamy body.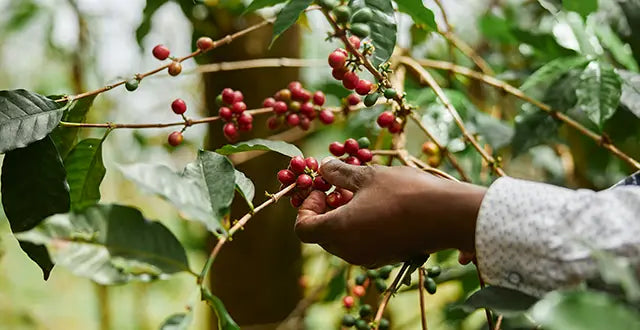 Growing region
The Yirgacheffe zone is located in Southern Ethiopia. Hafursa Waro is just a few kilometres to the west of Yirgacheffe town. Hafursa Waro receives cherries from producers who cultivate coffee on just a few acres of land. Farmers are paid a premium for high-quality coffee cherries and bring their coffee to the mill as soon as they can on the same day the cherries are harvested. Once the ripe cherries are at the mill, they are washed and then dried on African drying beds.