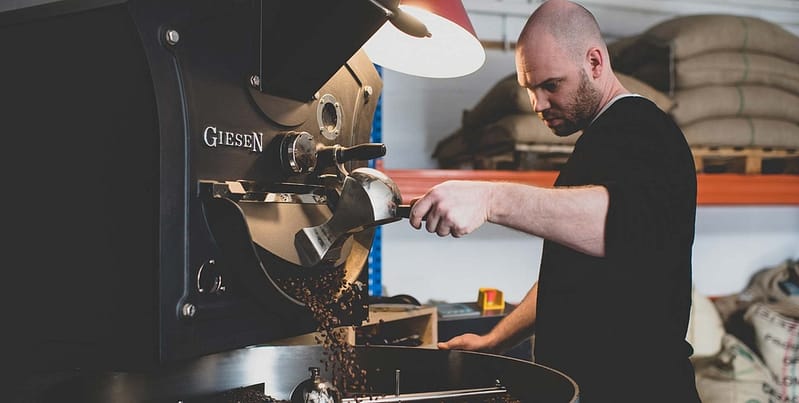 About the Ground Coffee Society
Founded on a passion to see great coffee in the hands of everyone
Professional drummer becomes full time coffee evangelist
In 2009 Dave Dickinson was a professional drummer and owner of a drum store in London. After installing a commercial coffee machine in his shop the drum-buyers soon became outnumbered by coffee lovers. Eventually the drums were moved out to make way for the first Ground café, and a passion to spread the message of amazing coffee began.
10 years on, not satisfied with just supplying his own successful coffee shops in London, Dave made the decision to put all of Ground's efforts into supplying a wider market of coffee lovers. Today the Ground Coffee Society is focused solely on producing the best coffee in the most sustainable way possible with 100% of our coffee sourced responsibly. We now supply coffee via mail, via our events team to fans at sports events around the world, and via our wholesale partners to cafés, offices and restaurants across the UK.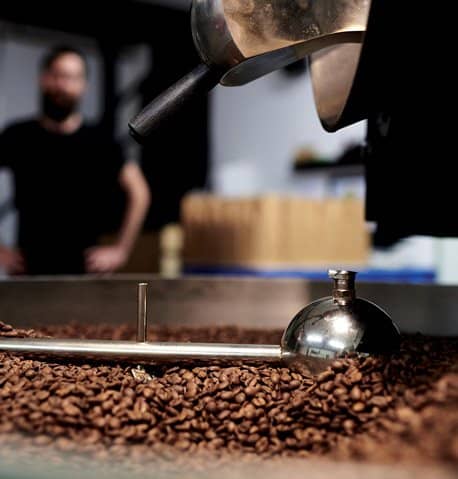 The Ground Roastery
Transforming the hard work of our coffee farmers into exceptional roasted beans is a responsibility we undertake with immense pride and passion. Our coffee profiles are designed to appeal to everyone, not just the coffee connoisseurs. But of course not everyone enjoys their coffee the same way, so we have different roasting styles to suit the many different types of brewing methods. Like the light roast of our Kenya Ichamama which is perfect for pour over style coffee and Aeropress; or Caveman Espresso perfect for a flat white, latte or espresso.
Art and science
We roast in small batches to ensure consistent quality with every roast. This allows us to trace and maintain roast consistency, which is particularly important for our wholesale customers. We ensure every batch meets our quality standards by following carefully designed roasting profiles. Hitting precise parameters at certain times during the roasting process.
Our founder Dave, along with the team, bring decades of roasting experience into every batch, combining science and sensory to develop the desired flavours. 100% attention is required throughout in order to react as the roasting process progresses. Science of course plays a big part. Controlling the rise and fall in both bean and air temperature, and the atmospheric pressure airflow (PA) is critical. We also measure the total dissolved solids (TDS) using a refractometer to measure light refractions through liquids.
Every batch is taste tested by our master roasters using 'cupping' to evaluate the aromas and flavours of the freshly roasted coffee when it's straight off the roaster.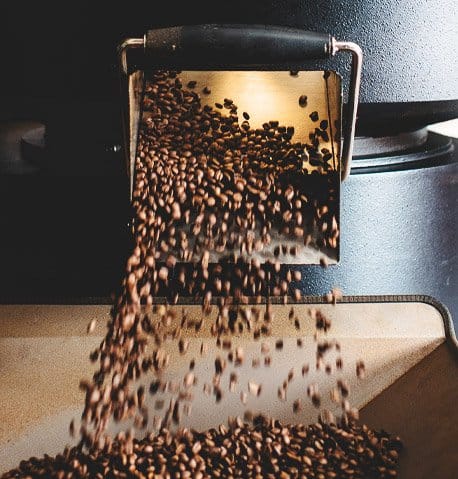 Welcome to the Ground Coffee Society
We are not a 'coffee company', we are a 'coffee society' because we believe how coffee is made and consumed affects us all.
Our AtSource certification ensures unparalleled sustainability and support for our coffee farmers, coffee pickers, their families and the environment they live and work in. We're here for the planet we all enjoy. We use 100% recyclable and CO2 neutral bags and our Nespresso® compatible coffee pods are certified compostable.
We are here for everyone with a love and appreciation for life and the vitality that comes from enjoying a cup of superior, expertly roasted coffee. Knowing it hasn't just made your day brighter but benefitted the lives of everyone in the supply chain and the planet too.